SongKong is fully internationalized, this means the entire user interface can be displayed in different languages and error messages can be displayed in the same language. Translation was done by a combination of automatic translation and professional translation for the most popular languages of German, French, Spanish and Japanese.
But although the translation for these languages was done professionally some extra translations have been done since. Also the professional translators are not SongKong experts and because of the technical nature of SongKong it is difficult to translate some text without experience of actually using SongKong.
We could do some with some help tidying up those translations that are incorrect and now with the web based remote mode it is quite easy to compare the English with the translated language as follows, (we use Fix Songs task as the example here)
Start SongKong
Run in Remote Mode
Select Preferences:Language to English and then Save
Select Fix Songs to bring up the options
Enable Show Advanced and Show Help
Open a second Browser Window
Copy SongKong url (http://ipaddress:4567) into browser
Select Preferences:Language to native language and then Save
Select Fix Songs
Now resize/align both windows so you can see English and native language together
You now have two version of Fix Songs, one in English and one in your native language so you can easily compare the two. All the options tabs are loaded so you swap between tabs in each browser, for example in screenshot we are comparing the Match tab
If you find a problem with a translation please simply post the English, and the corrected version for your language to the forum, because you are viewing SongKong in web-browser you can simply copy and paste the text. Suggested translations should be incorporated into the next version of SongKong.
We have created dedicated topics for German, French and Spanish where you can post translations. We welcome translations for other languages just create topic as required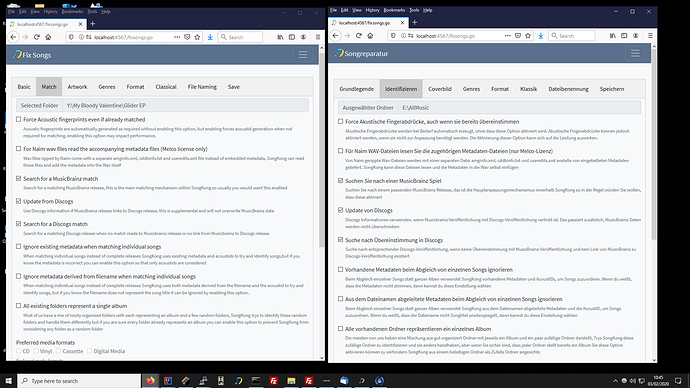 …