The Advanced Options allow you to control how SongKong decides which songs to delete and which to keep once it has identified duplicates in your collection.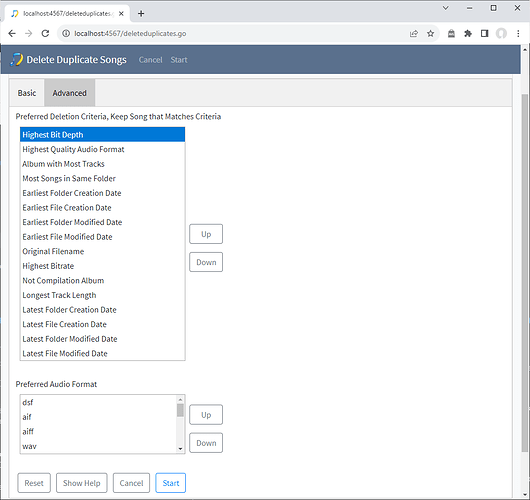 When duplicates are found, SongKong decides upon the song to be kept and the songs to be deleted based on the order of this criteria, the songs that best matches the criteria is the song that is kept. The first item in the list is used to compare songs, and only if all the songs for that key are found to have the same value for the criteria does additional criteria get used in the order they are listed. To change the order of the criteria click on the criteria you wish to reorder and use the up and down keys to move into position.
Why does this matter? We may have a preferred audio format. We may prefer lossless files or files that are for all intents and purposes the same as the original CD track because when they were ripped to the hard drive no data was lost. Alternatively, we may opt to keep lossy files or compressed versions of the tracks because they don't take up so much space on our hard drive, iPod, DropBox etc.
By default the first criteria is Highest Bit Depth, this is to ensure we keep HD versions of duplicates instead of non-HD if we have both. Then we use Highest Quality Audio Format and the Preferred Audio Format list below to decide the files to delete and the files to keep. By default lossless files are set as the files to keep, however we can change the preferred audio format to suit our needs.
We then use Album with most Tracks, this compares the Track Total field of the songs, the logic for this criteria is that if two versions of the same song are linked to different releases then it will be preferred to keep the one linked to the larger release (e.g special edition album rather than standard album)
We then use Most Songs in Same Folder - this checks how many files are within each folder containing the duplicate, and keeps the song in the folder with the most files, this criteria helps keeps albums together when we may have some albums split.
If still no difference we then use Earliest Folder Creation Date because this indicates it is the original folder. This criteria is not available for Linux based systems because Linux systems do not store file creation date
There are additional criteria we use further down the list if still nothing to separate the files.