After we select the Fix Songs task we then need to select a Profile, a profile is simply a predefined set of preferences for the task.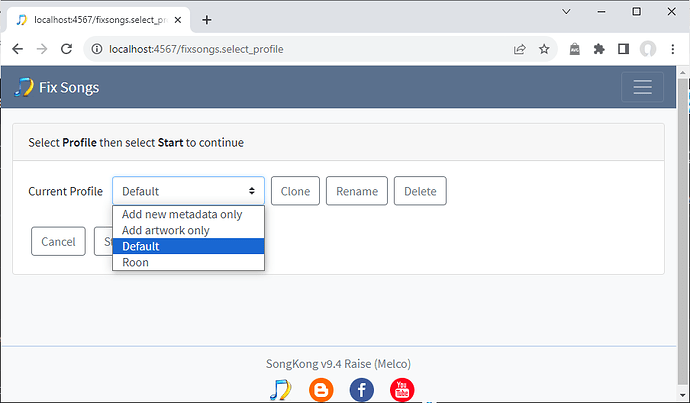 Fix Songs comes with the following profiles:
Default
Add artwork only
Add new metadata only
Roon
The Default profile is usually the one to select, this will attempt identify our songs and update the metadata accordingly. But if we are using the Roon player we should use the Roon profile instead because this has some adjustments to the metadata so it works perfectly with Roon.
Sometimes customers do not SongKong to modify any existing metadata, only add new metadata, in such cases we can use the Add new metadata only profile
And sometimes customers only want SongKong to add artwork, in this case use the Add artwork only profile
We can also create new profiles by selecting an existing profile and then Clone, and entering a new name, this will create a new profile with the same options as the cloned profile.
Once a profile is chosen select Start, this allows us to modify and check any options before we start the task. Any options modified will be automatically saved to the selected profile for next time we run the task with the same profile.