Hi All,
Hoping that someone can help me with a problem i'm having trying to get SongKong to tag songs correctly. based on my settings.
I'll try and describe my situtaion as clear as i can, so here goes.
I've got about 20k songs, all dance music from betwen 1990 to 2010 roughly. For years i have been trying to tag these all correctly, and the best tagger i could find was TagScanner, as i wanted to use the Discogs database as the data source. However, TagScanner is manual 1 by 1 and its taken me years to even just scratch the surface of my collection. Then i came across SongKong 2 weeks ago and reaslised it was automated and used discogs! I immediately purchased the Pro license and started tagging my collections in batched of 100's and 1000's, i thought i'd found the holy grail! However…
Last night i noticed that it has tagged around 100 tracks against the same Album, which isnt a problem as such, however, in my case it is. Because it tagged all the tracks as one album, it tagged them as all released in 2008, which for most songs on the album is not when the original was released.
I'm wanting to tag all of my songs as their original individual release date, and ideally not as part of a compilation album.
Bearing in mind that most of music is dance from between 1990 and 2010, a lot of it was originally released on vinyl or digital, and thats how i want the music to be tagged.
I took 1 track from the album i noticed it had tagged 100 tracks from, and searched for it on Discogs via Tagscanner, it was originally released in 1996 on vinyl, which is this track:
However, SongKong tagged it as part of this compilationm album from 2008, which is this one:
https://www.discogs.com/Various-100-Anthems-Hardcore/release/1253514 (CD 4 Track 16)
I decided to completely remove all of the IDv3 tags from the mp3 using TagScanner, and put it back through SongKong, and it again picked up the track on the compilation album.
I then decided to check the Basic and Match settings i had configured, and adjusted them to hopefully pick up the track using just discogs on vinyl (removing CD, Digital. Casette, and preferring earliest release date etc). I've now got the settings this: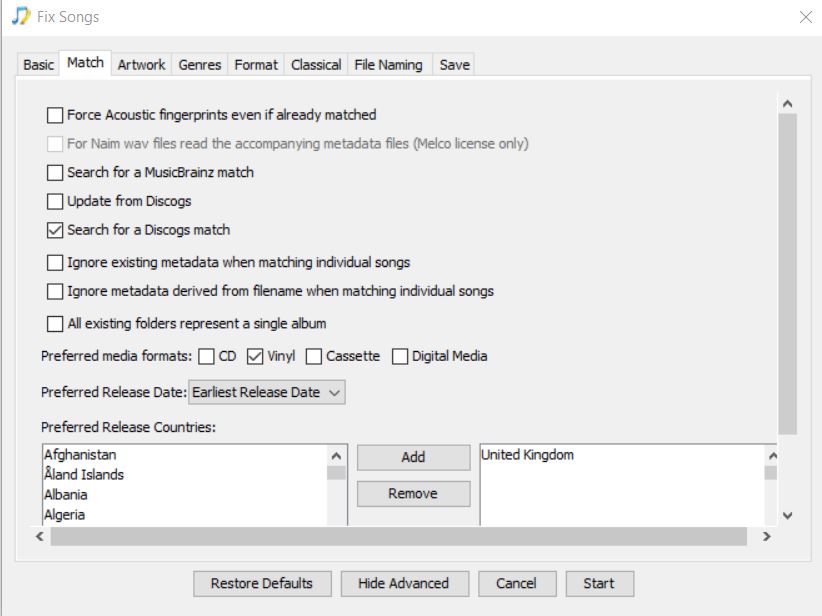 Each time i try and fix this song with SongKong, it always picks it up from the compilation album! I'm not sure why it's not picking this track up from the original release i have above on vinyl from 1996??
Ideally i want SongKong to completelyt ignore Compilation albums, as the vast majority of my music would have been released on vinyl or digital, in probably 99% of cases.
I've now realised that 1000s of the tracks i have already put through SongKong have compilations album covers and release dates, most of which were many years early.
This is really frustrating, and whilst its manual, its starting to make me think that TagScanner would be a better option as i can be completely accurate with the tagging, it will just take me a LOT longer.
Hopefully that makes sense, and someone can help me with my challenge. How do i get SongKong to use Discogs only, always pick the earliest release year, ignore compilation albums and always pick Vinyl or Digital (ignore CDs!)???
Thanks
Darren