There is one main task we have not yet mentioned in this tutorial - Naim Import Metadata, it will not be useful to most SongKong customers but is very useful for the intended users. it is a specially developed task for Naim customers trying to move their music over to non Naim systems.
Naim Audio produce many high-end audio systems, this includes the Uniti Core Music Server and its predecessor the Unitiserve Music Server. When used to rip a CD to Wav format, both looks up metadata from the All Music Guide or Cddb but then the metadata is stored within separate files instead of within the Wav file. This is not a problem as long as the music is plaed via Naim but if the files are copied elsewhere and the files served using a different system then no metadata would show up for the Wav files, this occurs even if the metadata files are copied as well since only Naim can read these metadata files.
Naim Uniti stores its metadata within a meta.naim file. Naim Unitiserve stores metadata within amginfo.xml and cddb.txt files, any user edits are stored in useredits.xml file
With the Naim Import Metadata task it can read all these files and then the metadata is now automatically embedded into the Wav files themselves, this can now be read and used by most applications and players. Because the files are local and no searching on the Internet is required this process is extremely fast.
When the Naim Import Metadata task is started, there are limited options allowing us to restrict what metadata to be added, this includes cover art, but usually the default options are correct.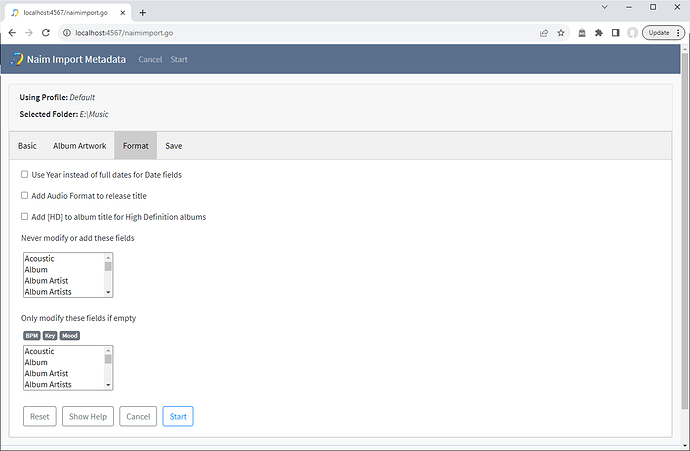 Then the task begins when we select Start. All the information from the metadata files is parsed, not just the basics like the artist, album and track title but other roles such as producers and engineers . For classical music the conductor , composer and performers are also added. Artwork is also embedded into the Wav file itself.
Once complete it displays a report that is very similar to the Fix Songs report.