SongKong is deceptively powerful, in fact some customers say it is perhaps too powerful !
So it is sensible to understand how it works before diving in and setting it to work on a music collection.
Status Report
Before starting to make changes with SongKong we recommend running the Status Report task over your complete music library, the first icon on the toolbar. This does a few things:
It creates a bar-chart giving you a summary what metadata the files currently contain
It groups the songs in a number of ways including by album and folder metadata and lets you see your existing metadata
Its creates a spreadsheet showing the location of your music files and all the metadata they contain.
and it doesn't take very long to run.
The Default profile will show a subset of the most common metadata fields in the summary but you can modify that, or use the Show all fields profile insteed, this shows everything.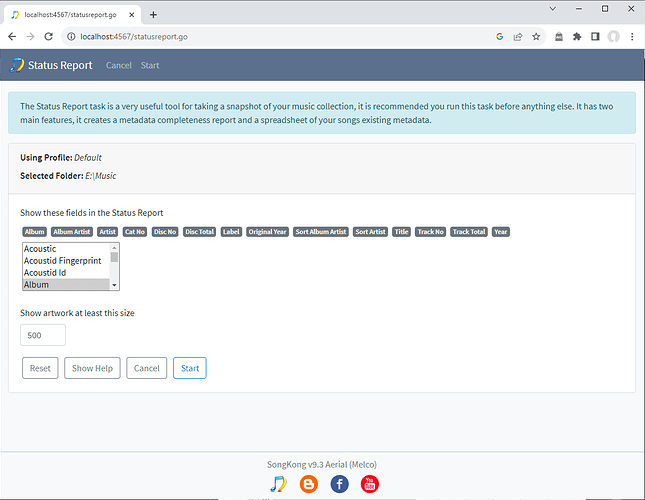 Once the report has been created it shows you the Summary page
Firstly this shows the percentage of songs with artwork. SongKong can add not only Front Cover artwork, but Back Cover and Artist artwork as well. For each type of artwork it shows two bars, the first bar shows songs with the particular artwork, the second bar shows songs with same artwork but only if dimensions are larger than particular size. This can be configured in the profile with the Show artwork at least this size option, it defaults to 500px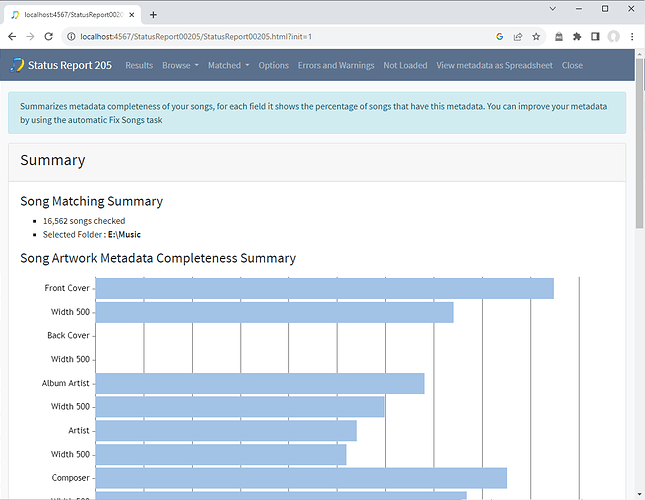 Then the second section shows the percentage of songs with values for particular fields