Once we have started Fix Songs a progress screen appears giving us details of how the task is progressing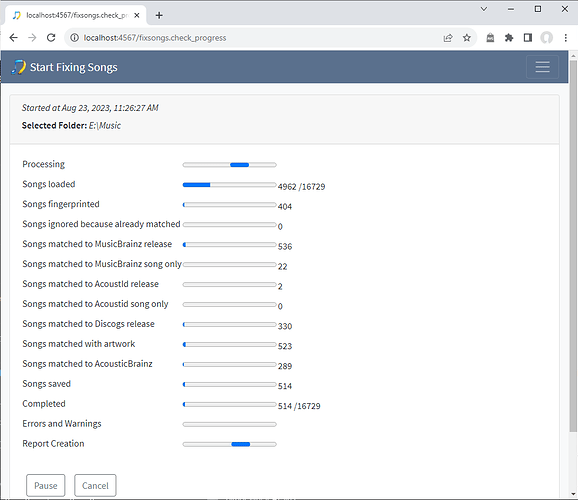 Songs loaded shows how many songs have been loaded into SongKong, but we don't load all the songs in at the start, we just load enough folders to keep SongKong busy. SongKong has worker tasks for each cpu on your computer so multiple folders can be processed in parallel.
Songs can be matched both to MusicBrainz and Discogs. But within MusicBrainz songs are only matched to either MusicBrainz release, MusicBrainz song only, Acoustid release or Acoustid song only, these are explained in more detail in the next tutorial.
If any changes are made to a files metadata the Songs saved progress bar will be increased
Once SongKong has finished processing a song the Completed progress bar will be increased. So at the end of the task the Songs Loaded progress bar should be the same as the Completed progress bar
As SongKong progresses all bars increase with Songs loaded progress bar always a bit ahead of the other bars until the task completes.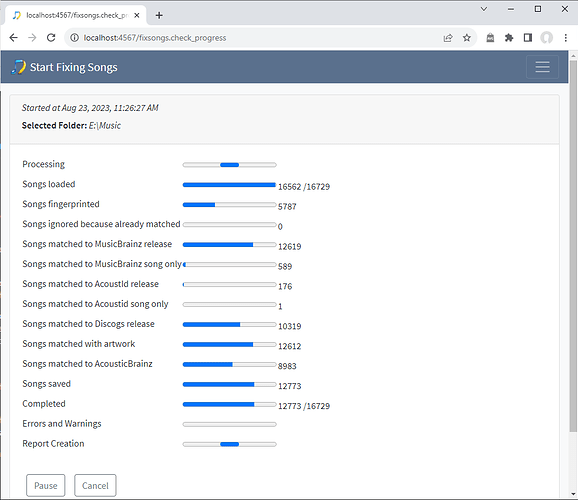 Once all songs have been processed SongKong then generates the report, and once the report is created it is displayed.