Hello,
I've recently updated to latest ver 7.2. I then encountered an issue with manual edit function. When I finish all manual edit and click save, it won't save anything but prompt following error messages:
Error report is shown as below:


Summary report is shown as below: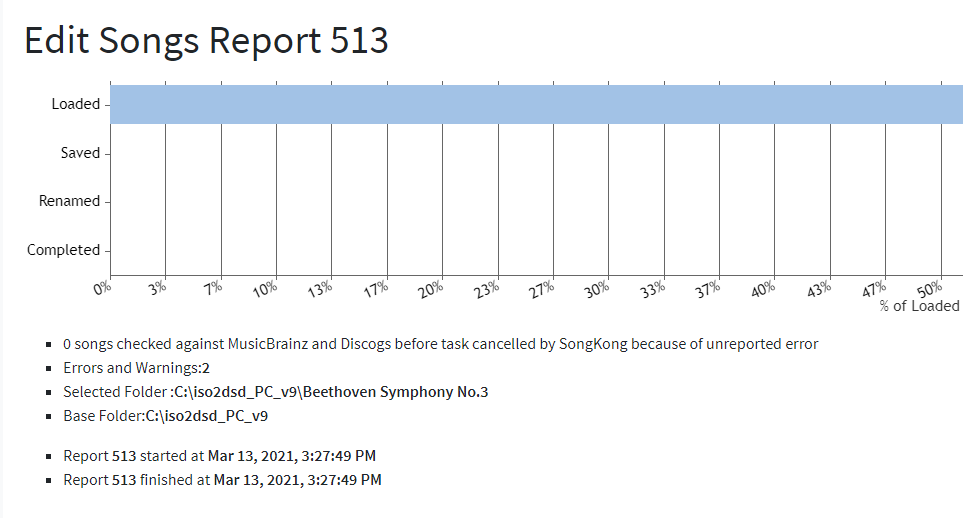 It is quite strage that in the summary report the selected file path seems to be incorrect. It shows:
Selected Folder : C:\iso2dsd_PC_v9\Beethoven Symphony No.3…[folder 1]
However the actual folder selected is:
E:\uTorrent Download\EMI\Disc 1…[folder 2]
Below is what I did:
Use iso2dsd tool to split an iso file into DSF files, stored in [folder 1].
Run SongKong auto matching in [folder 1] and move all matched files to [folder 2].
Run SongKong manual edit in [folder 2] and save without changing path.
In step 3 I got above error message and the selected folder is shown as [folder 1] instead of [folder 2].
I have sent a support file but not sure whether I did it correctly.
Please help look into this as manual edit is very useful to tweak a little after auto matching did 99% of work perfectly. Thanks