Hi Paul,
I started yesterday evening a "delete duplicate" job on a large collection of files.
Eventually it stopped progressing and "pause"/"unpause" didn't change anything.
Even "stop" button is not working.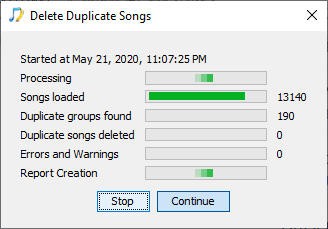 Here is the key information I found in the log file. Of course I can join full files if needed.
21/05/2020 23.19.12:CEST:DeleteDuplicatesLoadFolderWorker:loadFiles:SEVERE: end:E:\Musique\#2 Singles classés\2000\Timbaland feat. Drake:13139:1:13139 21/05/2020 23.19.12:CEST:DeleteDuplicatesLoadFolderWorker:loadFiles:SEVERE: end:E:\Musique\#2 Singles classés\2000\Timbaland feat. Justin Timberlake:13140:1:13140 22/05/2020 00.08.50:CEST:DeleteDuplicatesController:waitForFoldersToBeProcessed:SEVERE: completedWaitForFoldersToBeProcessed 22/05/2020 00.08.50:CEST:DeleteDuplicatesController:start:SEVERE: RecNoCount:13140 22/05/2020 00.20.49:CEST:INFO: A checked-out resource is overdue, and will be destroyed: com.mchange.v2.c3p0.impl.NewPooledConnection@1bd17a85 22/05/2020 00.20.49:CEST:INFO: Logging the stack trace by which the overdue resource was checked-out. java.lang.Exception: DEBUG STACK TRACE: Overdue resource check-out stack trace. at com.mchange.v2.resourcepool.BasicResourcePool.checkoutResource(BasicResourcePool.java:555) at com.mchange.v2.c3p0.impl.C3P0PooledConnectionPool.checkoutAndMarkConnectionInUse(C3P0PooledConnectionPool.java:755) at com.mchange.v2.c3p0.impl.C3P0PooledConnectionPool.checkoutPooledConnection(C3P0PooledConnectionPool.java:682) at com.mchange.v2.c3p0.impl.AbstractPoolBackedDataSource.getConnection(AbstractPoolBackedDataSource.java:140) at org.hibernate.c3p0.internal.C3P0ConnectionProvider.getConnection(C3P0ConnectionProvider.java:90) at org.hibernate.internal.AbstractSessionImpl$NonContextualJdbcConnectionAccess.obtainConnection(AbstractSessionImpl.java:380) at org.hibernate.engine.jdbc.internal.LogicalConnectionImpl.obtainConnection(LogicalConnectionImpl.java:228) at org.hibernate.engine.jdbc.internal.LogicalConnectionImpl.getConnection(LogicalConnectionImpl.java:171) at org.hibernate.engine.transaction.internal.jdbc.JdbcTransaction.doBegin(JdbcTransaction.java:67) at org.hibernate.engine.transaction.spi.AbstractTransactionImpl.begin(AbstractTransactionImpl.java:162) at org.hibernate.internal.SessionImpl.beginTransaction(SessionImpl.java:1471) at com.jthink.songlayer.hibernate.HibernateUtil.beginTransaction(HibernateUtil.java:224) at com.jthink.songkong.analyse.duplicates.DeleteDuplicatesLoadFolderWorker.loadFiles(DeleteDuplicatesLoadFolderWorker.java:83) at com.jthink.songkong.analyse.duplicates.DeleteDuplicatesLoadFolderWorker.call(DeleteDuplicatesLoadFolderWorker.java:57) at com.jthink.songkong.analyse.duplicates.DeleteDuplicatesLoadFolderWorker.call(DeleteDuplicatesLoadFolderWorker.java:29) at java.base/java.util.concurrent.FutureTask.run(FutureTask.java:264) at java.base/java.util.concurrent.ThreadPoolExecutor.runWorker(ThreadPoolExecutor.java:1128) at java.base/java.util.concurrent.ThreadPoolExecutor$Worker.run(ThreadPoolExecutor.java:628) at java.base/java.lang.Thread.run(Thread.java:834) 22/05/2020 00.20.49:CEST:INFO: A checked-out resource is overdue, and will be destroyed: com.mchange.v2.c3p0.impl.NewPooledConnection@2614ed22 22/05/2020 00.20.49:CEST:INFO: Logging the stack trace by which the overdue resource was checked-out. java.lang.Exception: DEBUG STACK TRACE: Overdue resource check-out stack trace. at com.mchange.v2.resourcepool.BasicResourcePool.checkoutResource(BasicResourcePool.java:555) at com.mchange.v2.c3p0.impl.C3P0PooledConnectionPool.checkoutAndMarkConnectionInUse(C3P0PooledConnectionPool.java:755) at com.mchange.v2.c3p0.impl.C3P0PooledConnectionPool.checkoutPooledConnection(C3P0PooledConnectionPool.java:682) at com.mchange.v2.c3p0.impl.AbstractPoolBackedDataSource.getConnection(AbstractPoolBackedDataSource.java:140) at org.hibernate.c3p0.internal.C3P0ConnectionProvider.getConnection(C3P0ConnectionProvider.java:90) at org.hibernate.internal.AbstractSessionImpl$NonContextualJdbcConnectionAccess.obtainConnection(AbstractSessionImpl.java:380) at org.hibernate.engine.jdbc.internal.LogicalConnectionImpl.obtainConnection(LogicalConnectionImpl.java:228) at org.hibernate.engine.jdbc.internal.LogicalConnectionImpl.getConnection(LogicalConnectionImpl.java:171) at org.hibernate.engine.transaction.internal.jdbc.JdbcTransaction.doBegin(JdbcTransaction.java:67) at org.hibernate.engine.transaction.spi.AbstractTransactionImpl.begin(AbstractTransactionImpl.java:162) at org.hibernate.internal.SessionImpl.beginTransaction(SessionImpl.java:1471) at com.jthink.songlayer.hibernate.HibernateUtil.beginTransaction(HibernateUtil.java:224) at com.jthink.songkong.analyse.duplicates.DeleteDuplicatesLoadFolderWorker.loadFiles(DeleteDuplicatesLoadFolderWorker.java:83) at com.jthink.songkong.analyse.duplicates.DeleteDuplicatesLoadFolderWorker.call(DeleteDuplicatesLoadFolderWorker.java:57) at com.jthink.songkong.analyse.duplicates.DeleteDuplicatesLoadFolderWorker.call(DeleteDuplicatesLoadFolderWorker.java:29) at java.base/java.util.concurrent.FutureTask.run(FutureTask.java:264) at java.base/java.util.concurrent.ThreadPoolExecutor.runWorker(ThreadPoolExecutor.java:1128) at java.base/java.util.concurrent.ThreadPoolExecutor$Worker.run(ThreadPoolExecutor.java:628) at java.base/java.lang.Thread.run(Thread.java:834) 22/05/2020 00.20.49:CEST:INFO: A checked-out resource is overdue, and will be destroyed: com.mchange.v2.c3p0.impl.NewPooledConnection@499b80ec 22/05/2020 00.20.49:CEST:INFO: Logging the stack trace by which the overdue resource was checked-out. java.lang.Exception: DEBUG STACK TRACE: Overdue resource check-out stack trace. at com.mchange.v2.resourcepool.BasicResourcePool.checkoutResource(BasicResourcePool.java:555) at com.mchange.v2.c3p0.impl.C3P0PooledConnectionPool.checkoutAndMarkConnectionInUse(C3P0PooledConnectionPool.java:755) at com.mchange.v2.c3p0.impl.C3P0PooledConnectionPool.checkoutPooledConnection(C3P0PooledConnectionPool.java:682) at com.mchange.v2.c3p0.impl.AbstractPoolBackedDataSource.getConnection(AbstractPoolBackedDataSource.java:140) at org.hibernate.c3p0.internal.C3P0ConnectionProvider.getConnection(C3P0ConnectionProvider.java:90) at org.hibernate.internal.AbstractSessionImpl$NonContextualJdbcConnectionAccess.obtainConnection(AbstractSessionImpl.java:380) at org.hibernate.engine.jdbc.internal.LogicalConnectionImpl.obtainConnection(LogicalConnectionImpl.java:228) at org.hibernate.engine.jdbc.internal.LogicalConnectionImpl.getConnection(LogicalConnectionImpl.java:171) at org.hibernate.engine.transaction.internal.jdbc.JdbcTransaction.doBegin(JdbcTransaction.java:67) at org.hibernate.engine.transaction.spi.AbstractTransactionImpl.begin(AbstractTransactionImpl.java:162) at org.hibernate.internal.SessionImpl.beginTransaction(SessionImpl.java:1471) at com.jthink.songlayer.hibernate.HibernateUtil.beginTransaction(HibernateUtil.java:224) at com.jthink.songkong.analyse.duplicates.DeleteDuplicatesLoadFolderWorker.loadFiles(DeleteDuplicatesLoadFolderWorker.java:83) at com.jthink.songkong.analyse.duplicates.DeleteDuplicatesLoadFolderWorker.call(DeleteDuplicatesLoadFolderWorker.java:57) at com.jthink.songkong.analyse.duplicates.DeleteDuplicatesLoadFolderWorker.call(DeleteDuplicatesLoadFolderWorker.java:29) at java.base/java.util.concurrent.FutureTask.run(FutureTask.java:264) at java.base/java.util.concurrent.ThreadPoolExecutor.runWorker(ThreadPoolExecutor.java:1128) at java.base/java.util.concurrent.ThreadPoolExecutor$Worker.run(ThreadPoolExecutor.java:628) at java.base/java.lang.Thread.run(Thread.java:834) 22/05/2020 00.20.49:CEST:INFO: A checked-out resource is overdue, and will be destroyed: com.mchange.v2.c3p0.impl.NewPooledConnection@45204f3a 22/05/2020 00.20.49:CEST:INFO: Logging the stack trace by which the overdue resource was checked-out. java.lang.Exception: DEBUG STACK TRACE: Overdue resource check-out stack trace. at com.mchange.v2.resourcepool.BasicResourcePool.checkoutResource(BasicResourcePool.java:555) at com.mchange.v2.c3p0.impl.C3P0PooledConnectionPool.checkoutAndMarkConnectionInUse(C3P0PooledConnectionPool.java:755) at com.mchange.v2.c3p0.impl.C3P0PooledConnectionPool.checkoutPooledConnection(C3P0PooledConnectionPool.java:682) at com.mchange.v2.c3p0.impl.AbstractPoolBackedDataSource.getConnection(AbstractPoolBackedDataSource.java:140) at org.hibernate.c3p0.internal.C3P0ConnectionProvider.getConnection(C3P0ConnectionProvider.java:90) at org.hibernate.internal.AbstractSessionImpl$NonContextualJdbcConnectionAccess.obtainConnection(AbstractSessionImpl.java:380) at org.hibernate.engine.jdbc.internal.LogicalConnectionImpl.obtainConnection(LogicalConnectionImpl.java:228) at org.hibernate.engine.jdbc.internal.LogicalConnectionImpl.getConnection(LogicalConnectionImpl.java:171) at org.hibernate.engine.transaction.internal.jdbc.JdbcTransaction.doBegin(JdbcTransaction.java:67) at org.hibernate.engine.transaction.spi.AbstractTransactionImpl.begin(AbstractTransactionImpl.java:162) at org.hibernate.internal.SessionImpl.beginTransaction(SessionImpl.java:1471) at com.jthink.songlayer.hibernate.HibernateUtil.beginTransaction(HibernateUtil.java:224) at com.jthink.songkong.analyse.duplicates.DeleteDuplicatesLoadFolderWorker.loadFiles(DeleteDuplicatesLoadFolderWorker.java:83) at com.jthink.songkong.analyse.duplicates.DeleteDuplicatesLoadFolderWorker.call(DeleteDuplicatesLoadFolderWorker.java:57) at com.jthink.songkong.analyse.duplicates.DeleteDuplicatesLoadFolderWorker.call(DeleteDuplicatesLoadFolderWorker.java:29) at java.base/java.util.concurrent.FutureTask.run(FutureTask.java:264) at java.base/java.util.concurrent.ThreadPoolExecutor.runWorker(ThreadPoolExecutor.java:1128) at java.base/java.util.concurrent.ThreadPoolExecutor$Worker.run(ThreadPoolExecutor.java:628) at java.base/java.lang.Thread.run(Thread.java:834) 22/05/2020 10.15.34:CEST:TaskMonitor:setUserCancelled:SEVERE: ***********User Cancelled Task 22/05/2020 10.15.34:CEST:DeleteDuplicateSongsDialog$ReenableMainWindow:doInBackground:SEVERE: >>>>CheckingReportCreated 22/05/2020 10.15.36:CEST:DeleteDuplicateSongsDialog$ReenableMainWindow:doInBackground:SEVERE: >>>>CheckingReportCreated 22/05/2020 10.15.38:CEST:DeleteDuplicateSongsDialog$ReenableMainWindow:doInBackground:SEVERE: >>>>CheckingReportCreated 22/05/2020 10.15.40:CEST:DeleteDuplicateSongsDialog$ReenableMainWindow:doInBackground:SEVERE: >>>>CheckingReportCreated 22/05/2020 10.15.42:CEST:DeleteDuplicateSongsDialog$ReenableMainWindow:doInBackground:SEVERE: >>>>CheckingReportCreated 22/05/2020 10.15.44:CEST:DeleteDuplicateSongsDialog$ReenableMainWindow:doInBackground:SEVERE: >>>>CheckingReportCreated 22/05/2020 10.15.46:CEST:DeleteDuplicateSongsDialog$ReenableMainWindow:doInBackground:SEVERE: >>>>CheckingReportCreated 22/05/2020 10.15.48:CEST:DeleteDuplicateSongsDialog$ReenableMainWindow:doInBackground:SEVERE: >>>>CheckingReportCreated 22/05/2020 10.15.50:CEST:DeleteDuplicateSongsDialog$ReenableMainWindow:doInBackground:SEVERE: >>>>CheckingReportCreated 22/05/2020 10.15.52:CEST:DeleteDuplicateSongsDialog$ReenableMainWindow:doInBackground:SEVERE: >>>>CheckingReportCreated 22/05/2020 10.15.54:CEST:DeleteDuplicateSongsDialog$ReenableMainWindow:doInBackground:SEVERE: >>>>CheckingReportCreated 22/05/2020 10.15.56:CEST:DeleteDuplicateSongsDialog$ReenableMainWindow:doInBackground:SEVERE: >>>>CheckingReportCreated 22/05/2020 10.15.58:CEST:DeleteDuplicateSongsDialog$ReenableMainWindow:doInBackground:SEVERE: >>>>CheckingReportCreated 22/05/2020 10.16.00:CEST:DeleteDuplicateSongsDialog$ReenableMainWindow:doInBackground:SEVERE: >>>>CheckingReportCreated 22/05/2020 10.16.00:CEST:TaskMonitor:setReportCancelled:SEVERE: ***********User Cancelled Report Creation