SongKong can be applied to large number of files without any interaction from the user. But because it is usually running for some time there is the chance it may stop before finishing processing all files. This can be for a number of reasons such as if you have an unstable internet connection, the Albunack server is unusually busy, or some other unexpected issue.
The good news is that SongKong saves the contents of each folder once it completes matching that folder, so for example we can see on the screenshot below that SongKong had loaded 1,687 songs before it failed with error. But it had Completed processing 90% of those songs before it failed, and this would include saving changes for all the files that had changed (88%).
So these changes are already now in your music files themselves.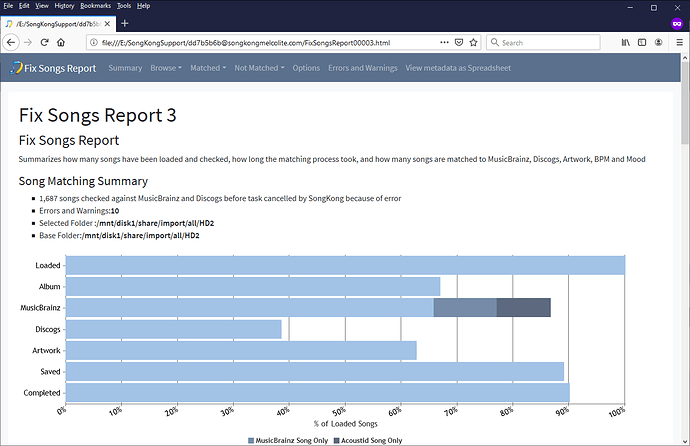 With the default settings if you rerun SongKong over the same folder then it will not need to rematch the songs already matched, and the identifying and matching songs is the difficult part. It will only update them with any extra information added by MusicBrainz/Discogs but this is the quick part.
The key setting is For songs already fully matched on the Basic tab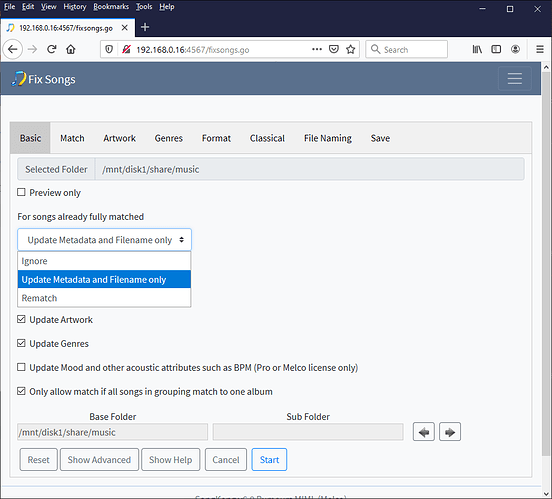 If this is set to Update Metadata and Filename Only then SongKong will work as described.
You can get quicker results if you set it to Ignore then it will totally ignore already matched songs
You can also set it to Rematch, this should not normally be used since it will rematch all songs as if they have never been matched.
You can find the cause of the error by selecting the Errors and Warnings tab and scrolling to the bottom, in this case the server was too busy