We are please to announce the release of SongKong Schmilco, named after the 10th album by Wilco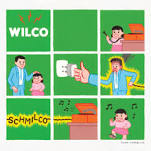 We introduced a couple of bugs in the last release so they needed fixing, the main one was that Manual Edit would no longer save changes in some cases.
We also have some other fixes in this release, and there is one improvement.
There is a change to the Use Windows Compatible Characters option. This is typically used on linux systems (such as Nas servers) to ensure the files are still readable by Windows, because Windows is more restrictive on what characters can be used in filenames. But Windows also cannot differentiate between two filenames that are only different in case, it is case insensitive. Linux is case sensitive so you could end up with two folders with the same name except case and it that situation only one would be visible to Windows.
So now if SongKong renames a file but the folder path is the same as an existing folder (except for case) then we use the existing folder path instead of creating a new folder. Note enabling the option will prevent additional folders being created with same case-insensitive name, but if you already have multiple folders with the same case-insensitive name it will not delete the existing folder, this would have to be done manually.
Improvement
[SONGKONG-2200] - Consider existing folders names in a case sensitive way if Use Windows Compatible Characters is Enabled
Bug