So I looked at the logs, there were a few StaleObjectStateException but not that many, so I don't think this is the issue. It had processed 224, 4084 and deleted 56,287 of the files (plus subfolders and other files) in three days, so slow but not as slow as I first thought, at this rate would take you about a month?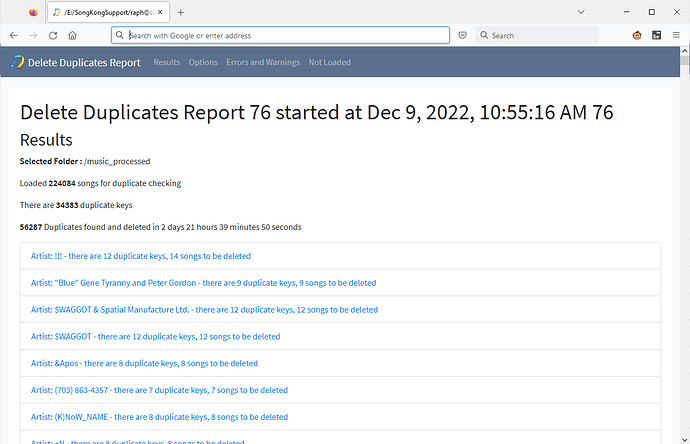 I suspect the slowness is a combination of me making it single threaded, and the large number of files that were found to be duplicate and hence the large number of files to be deleted, and associated folders to be checked for possible deletion. I need to do some performance analysis here to speed up the algorithm (by possibly multi threading part of it), but I need to finish new Jaikoz release first so this may not happen until after Xmas.
But I also noticed your preferred deletion folder criteria was less than optimum, I dont think you want Longest Track Length so high up , I thought you would be using the Most Songs in Same Folder
or Earliest Folder Modified Date I added for you.
Preferred Deletion Criteria, Keep Song that Matches Criteria:
    Highest Quality Audio Format
    Highest Bitrate
    Longest Track Length
    Original Filename
    Earliest File Modified Date
    Highest Bit Depth
    Not Compilation Album
    Latest File Modified Date
    Album with Most Tracks
    Earliest Folder Modified Date
    Latest Folder Modified Date
    Most Songs in Same Folder