Could you add the ability for us to customize the name of the "custom" fields 1-5 like mediamonkey?
I assume you mean change what they are actually written to in the files rather than just what is displaye dion Jaikoz. Yes, custom metadata fields is my top priority for new Jaikoz features but there is work to do because the underlying tag library does not support arbitary custom fields.
But I think your idea of just letting the user modify the names of these existing fields is a good one (causing them to be written differently to the audio files is quite a good one), simpler than what I was originally thinking of doing.
…although there is an issue as it maps to COMM (comment) frame for ID3 I was expecting it map to user defined text frame (TXXX)
No I was wrong you do just mean rename the headings as you can in Media Monkey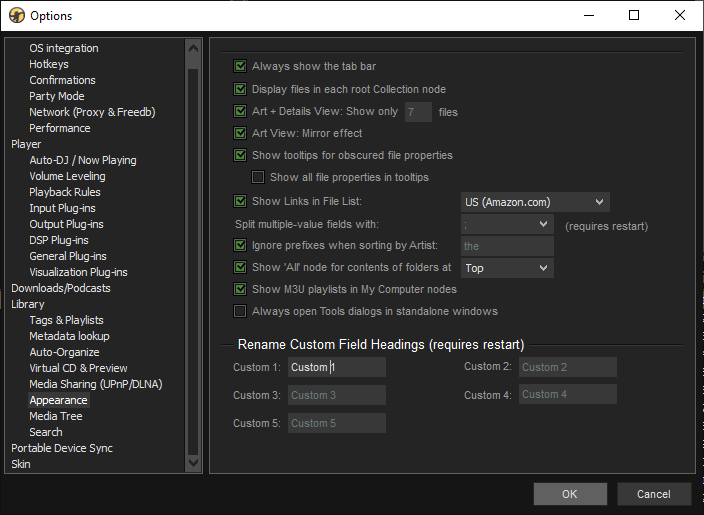 and now I remember these fields were added to support Media Monkey users so I cannot change the definition
Okay you can do this already by editing a files, you need to modify the file C:\Program Files\Jthink\Jaikoz\app\jaikoz_en.properties but because C:\Program Files is a protected location on Windows you may have to copy the file to a different location and then copy after editing rather than modifying directly
The lines you are interested in are lines 30-34
audiotagname.custom1 = Custom 1
audiotagname.custom2 = Custom 2
audiotagname.custom3 = Custom 3
audiotagname.custom4 = Custom 4
audiotagname.custom5 = Custom 5

Just modify accordingly then restart Jaikoz
Note if not using English need to modify the appropiate file e.g. jaikoz_de.properties for German