Paul, you managed not to provide Jaikoz with an update for a year.
Congratulations
Yes I'm aware of that, unfortunately getting SongKong ready for Melco has taken a huge amount of my time, and it is not trivial to simply switch between developing different products. But much of the improvements made to SongKong will find their way into Jaikoz, I have already started work on the next version of Jaikoz, it will happen !
4 months later, approaching 1 1/2 yrs without any update.
what progress, if any?
We have some Jaikoz specific work but the truth is we had some issues to fix in SongKong and this has required updating Java from Java 8 to Java 11 and this has been quite problematic, with platform specific problems on just about every platform we support !
Worth remembering that alot of work is shared between SongKong and Jaikoz, so alot of fixes have been made to the music tagging library and the next release of Jaikoz will get that, and there have been improvements to the Albunack database that Jaikoz users will already benefit from.
Also we are hitting problems trying to notarize SongKong for MacOS, but once we have solved for SongKong it will be quite trivial to fix for Jaikoz as well. So Im sorry everything is taking longer than expected, but I am only one person, and we will get there eventually.
I am only one person, and we will get there eventually
since jan '19, 14 releases of SongKong
SongKong 6.8.2 Rumours released 25th February 2020
SongKong 6.8.1 Rumours released 12th February 2020
SongKong 6.8 Rumours Released 29th January 2020
SongKong 6.7.2 Closer Released 15th December 2019
SongKong 6.7.1 Closer Released 12th December 2019
SongKong 6.7 Closer Released - 26th November 2019
SongKong 6.6.2 Red (bug fix release) released 8th November 2019
Songkong 6.2 Hunkpapa - released June 20th 2019
SongKong 6.6 Red released 23rd of October 2019
SongKong 6.5 Doolittle released 4th of October 2019
SongKong 6.4 Treasure released 7th September 2019
SongKong 6.3 Psychocandy released 21st July 2019
SongKong 6.0 Fumes - released 29th March 2019
SongKong 5.15, Crocodiles released 5th March 2019
SongKong 5.14 Sister release, released on 14th of January 2019
for Jaikoz users, zero.
it appears you do have the time/resource for development, just not for Jaikoz customers, which are clearly not the priority.
fair enough.
We had a lot of work to do for SongKong so that it worked well on Melco hardware, this took considerably longer than expected, and trying to work on Jaikoz at the same time would just extend the time it would take, we still have some work to do for Melco so Im afraid the next release you'll see will be another SongKong release.
So for the last few years SongKong has been priority, but that will change. Also Jaikoz is a more mature and stable product, Jaikoz had many years of my full attention before SongKong was developed, so doesn't require so much work anyway. But we will have new Jaikoz releases soon.
Just wanted to update you on new Jaikoz release progress. I am working on a number of large Jaikoz infrastructure tasks (such as updating from Java 8 to Java 14), this is a considerable amount of work
but is nearly done.
So far have completed the following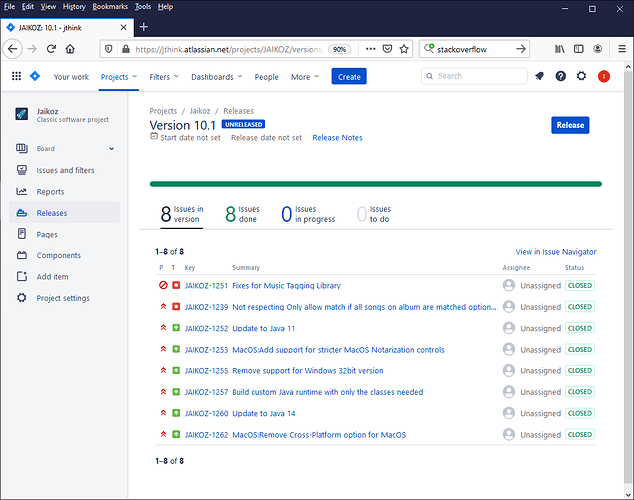 and I am currently working on implementing Dark Mode for MacOS and supporting the MacoS Catalina Music App.
So I expect a new Jaikoz release within a couple of weeks, and then a follow up release where we start adding new functionality.